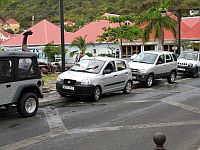 There is really only one way to get around the island of St Barts, by rental car. While there are a limited number of taxis available, they can be pricey, and take a lot of fun out of your stay. It is absolutely essential that you rent a car. There are many car rental companies on the island. Some of the large chains have been known to raise their rates when you arrive, even when you hold a confirmed reservation. Use one of the local companies. Purchasing extended insurance protection for your rental is wise. American Express Premium offers coverage for $24.95. Although only encompassing eight square miles, St Barts has an abundance of varied terrain and beautiful vistas at every turn. The two lane (at best) roads that wind up, down, and around the hills, are challenging at every bend. Driving can be quite scary at first, but after a short while it will become second nature. Make sure that you rent a four wheel drive vehicle. You will need its power and traction to get up some of the steeper hills, especially in the rain. Go with the smallest car you are comfortable driving. You will need every inch of space on the narrow, twisting roads. When street parking, it's a good idea to fold that driver's side mirror in so it won't get clipped. Be sure your spare tire and jack is in the car before you drive off for your tropical adventure in paradise. Better safe than sorry. Again, a local company needs your patronage to survive. If you find yourself in a jam, they will come to your rescue.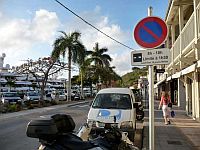 In the town of Gustavia, there is something called "blue zone" parking. Between 8AM and 6PM Monday through Saturday, you may only park for 90 minutes at a time. A blue disk will be supplied with your rental car. You set the time you parked on the disk, and place it on the dashboard. The fine is 11 euros for violations … so don't be late!
If you like to stay away from the crowds while you are on holiday, be forewarned that the Cruise ships come into town on Tuesdays and Fridays. (Confirm Fridays - don't remember) Another scheduling tidbit for shoppers is ... the town shoppes are closed between 12pm - 3pm. For beach bums who spend their time wind-sailing, yachting, para-sailing, hiking or fishing, dinner in St Barts doesn't start until 7pm at the earliest. So be sure to stop at one of the local supermarche for wonderful french cheese, wine and baguettes to hold you over if you've been out since the crack of dawn. There are so many great sites to see in St Barts while driving. Remember to keep your eyes on the road, or pull over for breath taking picture opportunities. St Barts' driving slogan is "Courtesy is Contagious". It's not just an axiom or suggestion. There are some pretty big drop offs on the sides of the road, so don't scare your co-pilot too much or you may find your keys missing. You're on vacation, take it slow, stay to the right, enjoy the scenery, food and culture, and you'll soon find that Courtesy really is Contagious in St Barts.