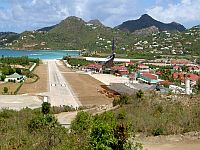 St Barts has a really short runway. Itís not quite as short as the landing strip on SABA, which is perched on top of a cliff, but itís a challenging approach only a small aircraft can make. If you add wind to the mix, your heart may be in your throat as you glide over the ocean, dip between two hills set over the main road, and the wheels touch down on what not too many years ago was just an empty field.

Itís exhilarating to say the least, as you race towards the ocean, stopping just short of a beautiful, white sandy beach that touches a clear, sparkling, teal and turquoise ocean. As you catch your breath, the plane loops back to the terminal where you exit your small wind chariot.

Watch your head getting out, and hold on to the wire railings. Yes, wire. Travel light. Backpacks and rolling suitcases let you move quickly to customs. If you like your passport stamped, sometimes you have to ask them to stamp it. Many a time weíve travelled to St Barts, and they only stamp one way.

After passing through the customs hallway, exit to the left, just around the corner. You can see the luggage carousel through the glass windows at customs Ė thatís how tiny the airport is.

One word of caution, if you lean towards agitation when travelling Ė if you have too many bags, some or all of your bags may end up on the next plane. Donít worry. During high season, the next plane is usually 10-20 minutes behind you, or your bags could even arrive before you. St Barts is so small that they just added a baggage scanner in 2009. On that note, we used to pack our lunch and dinner for the trip back home from our villa refrigerator. No longer can we carry liquids (our wine), or our favorite supermarche ďpots au chocolatĒ for lunch. The scanner will catch the foil lined tops. We do enjoy eating our crab sandwiches from the bakery during the layover in St. Maartin. Itís not wrapped in foil, so we are good to go! Itís our transition time from the good life, back to the real world.

Due to its short runway and difficult approach, only small aircraft can land on St Barts. It is best to take a flight from your home city to Princess Juliana airport in St Maarten. From there you can get on one of the many flights using small planes to St Barts. Allow 2 hours between flights. The flight takes about 10 minutes.

The St Barts airport closes at dusk, due to its minimal lighting and challenging landing strip. The last flight in or out is generally around 5:30pm in the winter. The landing can be a bit daunting as the approach to the airport takes you over a hill, where the plane will then take a sharp dip to the tarmac. A rapid deceleration before the end of the runway brings you to a small stretch of beach, followed by the ocean. During certain wind conditions the landing will be reversed. Instead of coming in over the hill and sharp dip, the plane comes in from the beach side and rushes towards the hill!

There are several air carriers serving the St Maarten to St Barts route. Most notable are Winair and St Barth Commuter. Winair offers the most flights per day and because of this, if you arrive early, there is a good chance you can get on an earlier flight just by asking. St Barth Commuter offers fewer flights, but is slightly less expensive. For those with a more efficacious travel budget, Tradewind Aviation offers direct flights from San Juan, Puerto Rico to St Barts. This offers the advantage of bypassing St Maarten completely. The flight takes about 1 Ĺ hours.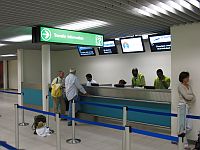 Carry on bags is the most efficient way to travel to St Barts. It is very laid back on the island, so there is no need for a lot of fancy clothes. Travel light. For women, sleeveless dresses and a light wrap for evening breezes is enough for dinner attire. Sandals are easier walking on cobblestone inclines and stone stairways than heels.

If you have checked baggage, upon arrival in St Maarten you will have to retrieve your bags first, and then go through customs in St Maarten, before proceeding to your next connection to St Barts. Some airlines will let you check bags all the way from your US city to St Barts. US Air, Continental and KLM will do this. With carry-on bags you proceed directly to a transit gate to get a boarding pass, through a small security check and then on to your gate. This saves a lot of time.

The transit gate procedure for carry on only is as follows. Proceed directly to the TRANSFER INFORMATION desk. This is on your left before the immigration checks. Remember to keep your boarding pass from your incoming flight. There is a $5 departure fee that you will pay at the transfer desk. Without the boarding pass the fee is $30. You will be given a boarding pass for your St Barts flight. There is then a small security gate right past the desk. Go through this gate, up one level, and on to your gate.


There are several companies who offer a VIP service at the airport. They will pick up your bags and get you priority treatment. This can be very helpful if your time schedule is tight. They charge about 120 Euros per person. Premium IV (from US) 011 590 590 29 00 07 and St Barth Services (from US) 011 590 590 27 56 26 offer this service.


There are two ferries which run between St Maartin and St Barts. The crossing takes about 45 minutes on the high speed ferry, and 90 minutes on the other. If you arenít fond of rough seas, the small plane is quicker and more enjoyable. If it starts to rain while you are in flight, beautiful rainbows will appear before your eyes before you land!